800VA/12V "Falcon" Home UPS/PURE SINEWAVE INVERTER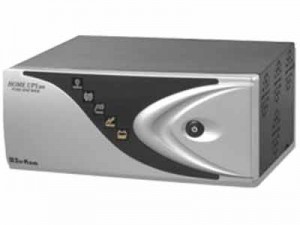 | | | |
| --- | --- | --- |
|   |  Unit Price |  Total Price |
|  Sukam 800VA/12V Home UPS/Inverter (1) |  N 27,600 |  N 27,600 |
|  Sukam 200Ah/12V  SMF Battery (1) |  N 60,750.00 |  N 60,750.00 |
|  Sukam Single Battery Trolley (1)  |  N  5,400 |  N  5,400 |
|  Installation |  N 18,000 |  N 18,000 |
|  Total Price |   |  N 111,750 |
         The Su-Kam 800VA/12V pure sine wave inverter is an entry level capacity inverter to meet some basic power back-up needs of a home or office: some light points, fans and few other appliances (see load estimate below). The 800va Su-Kam inverter is a 12V inverter, which means that it uses a battery bank of one 12v battery. The 200Ah battery capacity is recommended, but other battery capacities below or above 200Ah will also work. Lower capacities (say 100Ah), however, mean less power storage and less backup performance.     Built by Su-Kam Power Systems Ltd, a leading manufacturer of inverters and power backup systems, the Su-Kam 800VA/12V unit offers the same ruggedness of the entire range. With a solid 1 year manufacturer's warranty and its outstanding after-sales support (the Su-Kam Service Center is effectively equipped with spares and service engineers), the Su-Kam inverter brand is one you rely on for performance and peace of mind.     The Su-Kam 800va Falcon unit is also labelled a Home UPS. What this means is that this inverter unit has been designed to offer double functionality (inverter + UPS functions). It means that supply changeover is not only automatic but also without a break. In effect, your computer will run without re-booting and you will not need an extra UPS to achieve this. This Su-Kam inverter unit can actually serve as UPS, providing smooth continuous power supply and for an extended backup period far beyond what a normal UPS can offer.    The Su-Kam 800va/12v Falcon inverter is an advanced technology equipment, trusted for durable service. Even this small Su-Kam inverter unit offers a lot of value to bring huge lifestyle benefits to your family. Here's some of what you enjoy with this 800va Su-Kam inverter:
High surge withstand capability (up to 300%)
Provides pure sine wave power output (100% pure) – purer than power from grid (great for your sensitive equipment)
Instant switchover: for the computer to run uninterrupted during power cuts, without rebooting.
Provides extra long back-up for computers
Space Saver – ideal for modern day households.
User friendly display of alerts
Aesthetically designed to blend into your upscale living environment.
Option of castor wheel mounted trolley for easy movement.
LED display to aid monitoring of performance
Saves 40% electricity bill as compared to square wave inverter
Incorporates smart overload sensing and short-circuit protection with auto reset.
In general, Su-Kam inverters mean a lot of comfort and new, hassle-free lifestyle because of the following benefits they bring:
Extended

Power

Backup: Get several hours of backup to meet your power need over most of the day. For the right load, your Sukam inverter will deliver hours of power backup.
Zero

Running

costs: They require no consumables like diesel, petrol or oil, saving you lots of money otherwise spent on power generators. Also no frequent breakdowns as you're likely to get with your overworked power generator.
Noise-

Free

Operation: Your Su-kam inverter is noiseless. Now you can spare yourself all that generator noise you've been enduring as a necessary evil
No

Oil

Mess: Sukam inverter uses no oil, causes no oil spill or dirt and is a clean appliance like other gadgets in your home.
No Fumes: The inverter also produces no fumes or smoke, saving your environment all the air pollution  your power generator punishes you with.
Auto-run: All the stress of starting, stopping, changing over, topping oil, pouring diesel, cleaning oil mess and all the other tedious chores of managing a generator are eliminated for you. Sukam inverters run in automated mode, requiring no manual intervention.
Conserve,

Optimise

: The inverter is an economy device, helping you optimise. Switch on only your TV and that's the power you use, all else stays stored. For a generator, it must run at full capacity, burning fuel at full requirement, even if it's just a bulb you want to light.
The high technical performance and service value of the Su-Kam inverter range, including the 800va Sukam inverter, is the result of the following design features:
High end DSP based design.
Light weight and compact in design resulting in space saving.
Overload and short circuit protection.
Battery deep discharge protection.
Charger capable of charging deep discharged batteries.
Charger is supported with spike busters and line filters eliminating every possible harmonic distortions.
CCCV based charger to reduce water topping frequency.
Better overload handling capacity as compared to ordinary inverter.
Noiseless in operation.
User friendly display and operation.
High surges capability.
Runs heavy loads.
Battery pole reversal protection.

Estimated

Load

Capacity
1 small Television unit
2 Fans
3 Light Points
1 VCD
1 DSTV Decoder or Sound System

Technical

Specs

:

Su-Kam Pure Sine Wave (800VA/12V) Output Power – 800VA. Output wave form – Pure Sine wave. Peak efficiency > 88%. Output voltage – 220V. Nominal battery voltage – 12V. Overlaod capacity handling – 105% for 6 minutes. Compartible battery type – Lead Acid/SMF. Weight – 4.5kg. Dimensions LxWxH (mm) – 548x345x225. Casing – sheet steel with plastic front.    Manufacturer's warranty: 12 months