15KVA/360V 3-Phase "Colossal" Pure Sinewave Inverter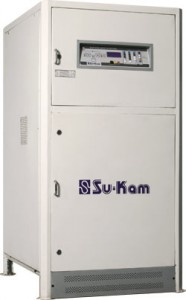 | | | |
| --- | --- | --- |
|   |  Unit Price |  Total Price |
|  Sukam 15KVA/360V Inverter (1) |  N 1,012,500.00 |  N  1,012,500.00 |
|  Sukam 200Ah/12V  SMF Battery (30) |  N 60,750.00 |  N 1,822,500.00 |
|  15-Battery Iron Rack (2)                                 |  N 31,250.00 |  N 62,500.00 |
|  Installation |  N 165,000.00 |  N 165,000.00 |
|  Total Price |   |  N 3,062,500.00 |
            Get even more robust power backup capacity from the 15kva/360V Su-Kam DSP Sine wave Colossal Series 3p-3p inverter, designed for large capacity sensitive equipment. With the 15kva/360V colossal series Su-Kam inverter, you will enjoy reliable, regulated and stabilized Pure Sine Wave Output. This pure sine wave inverter is suitable for all types of commercial deployments and is capable of running everything from lights to air conditioners to lifts, in the most cost effective manner.The digital pure sine wave 15kva inverter is suitable for many commercial applications, like the following:
Banks/ ATM's
BPOs / Call centers
Data Centers
Deep Freezers
Elevators & Escalators
Hospitals
Restaurants and Hotels
Industrial Drives & Motors
Laboratories
Petrol Pumps
Clubs, Pubs and Discotheques
Schools / Educational Institutions
Super Markets / Shopping Malls
Telecom Towers
Textile Industry
Enjoy

100%

Pure,

Reliable

and

Regulated

Power

Su-Kam Heavy-Duty Inverters, Colossal Series, produce Pure Sine Wave (clean) Power. They're based on Digital Signal Processing (DSP) technology, the worlds most advanced technology (meant for high-speed data processing), in conjunction with Sine Wave technology, to deliver output which is completely stable and distortion free (total Harmonic Distortion of 3%). The power it produces is actually purer than power supplied from the grid. This makes it absolutely safe to run even the most sensitive equipment.

Also

Enjoy

Ease

of

Operation

The Su-Kam DSP Sine Wave Inverter, Colossal Series, automatically switches on to the battery mode during a power outage, thereby saving you the hassle of manually starting the system. There is no time gap (start-up delay) between power cut and resumption of back-up power.  

Durability

and

Dependability

Su-Kam inverters are already powering many domestic and commercial installations in Nigeria, many of which are now running for several years. Su-Kam inverter technology has matured now, turning out products that deliver proven performance. With a robust after-sales support system, every Su-Kam inverter unit is assured to keep working for years, yielding huge returns on the investment made in it. With years of savings in fuel/diesel cost, the cost of set-up soon pales into insignificance.

Many

Great

features

to

Ensure

Top

Performance

This series of Su-Kam inverters, like all others, is built to high engineering standards, to deliver most reliable performance. Here are some of its high performance features:
Pure Sine Wave Output produces clean power.
Runs heavy duty appliances/equipments.
User friendly display and operation.
Auto self test on LCD Panel (buzzer test, fan test, input and output supply, battery status)
Free of spikes and surges.
Scalable runtime.
Built in Galvanic Isolation Transformer.
Cold start.
Fuzzy logic controlled battery charging.
Power monitoring software with Power Audit features.
Low running cost.
Smart short circuit and overload protection.
Running efficiency of more than 92%.