7.5KVA/120V 1-Phase "Colossal" PURE SINEWAVE INVERTER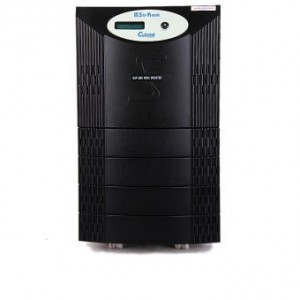 | | | |
| --- | --- | --- |
|   |  Unit Price |  Total Price |
|  Sukam 7.5KVA/120V Inverter (1) |  N 373,750.00 |  N 373,750.00 |
|  Sukam 200Ah/12V  SMF Battery (10) |  N  60,750.00 |  N 607,500.00 |
|  10-Battery Iron Rack (1)                             |  N  20,250.00 |  N   20,250.00 |
|  Installation |  N  55,000.00 |  N   55,000.00 |
|  Total Price |   |  N 1,056,500.00 |
           The 7.5KVA/120V Su-Kam DSP Sine Wave Inverter, Colossal Series, is a fairly high output capacity, advanced technology inverter that assures you of reliable, regulated and stabilized power. It is a Pure Sine Wave Output inverter, a complete power generation system that is suitable for domestic use and for many types of commercial applications. What's more, the Su-Kam inverters present a cost-effective power backup solution, great for users whether for the home or commercial purposes.   Apart from meeting the power backup needs of home users, commercial establishments will find this product a huge productivity booster and money saver, in the following business environments and more:
Banks/ ATM's
BPOs / Call centers
Data Centers
Deep Freezers
Elevators & Escalators
Hospitals
Restaurants and Hotels
Industrial Drives & Motors
Laboratories
Petrol Pumps
Clubs, Pubs and Discotheques
Schools / Educational Institutions
Super Markets / Shopping Malls
Telecom Towers
Textile Industry
The Su-Kam Inverter 7.5KVA/120V unit operates on a standard battery bank of ten 12V batteries. This 120VDC inverter will power such appliances and equipment as tube lights, fans, TVs, DVDs/LCDs, refrigerator, deep freezer, air conditioner, computers, projectors, printers, scanners, etc, in the home or office deployment or for the kinds of commercial deployments listed earlier. To achieve good backup results, up to 200Ah batteries are recommended, though actual usage will depend on the established requirement.The superior performance that users of the Su-Kam inverter brand have come to expect from Su-Kam inverters is the result of committed R&D effort that has given birth to proven advanced inverter technology. Here are some performance features of the colossal series inverters:
DSP based PWM technology using MOSFET.
Fuzzy Logic Charging algorithm suitable for all type of batteries.
Constant voltage and frequency.
User friendly display and operation.
Auto self test on LCD Panel.
LCD panel for remedial actions & water topping alerts.
Smart short circuit protection.
Reverse battery polarity protection.
Free of spikes and surges.
Runs heavy loads.
In built TDR point for compressor based applications.
Power fail duration on LCD panel.
Su-Kam Inverters offer these benefits:
Extended

Power

Supply: Get several hours of backup to meet your power need over most of the day.
Zero

Running

cost: There are no consumables like diesel, petrol or oil to spend money on. Also no frequent breakdowns like overworked power generators.
Noise Free: Your Su-kam inverter is noiseless. Now you can spare yourself all the generator noise.
No

Oil

Mess: Su-kam inverter uses no oil, causes no spill or dirt and is a decent appliance like other gadgets in your room.
No Fumes: The inverter is a clean device that saves your environment all the fumes of the power generator.
Auto-run: All the stress of starting, stopping, changing over, topping oil, pouring diesel, cleaning oil mess and all the other tedious chores of managing a generator are eliminated for you. Su-kam inverters run in automated mode, requiring no manual intervention.
Conserve,

Optimise

: The inverter is an economy device, helping you optimise. Switch on only your TV and that's the power you use, all else stays stored. For a generator, it must run at full capacity, burn fuel at full requirement, even if its just a bulb you want to light.
  Estimated load capacity of 7.5KVA Su-kam Inverter:
1 Fridge
7 Fans
7 Lighting Points
1 DSTV Decoder
1 LCD T.V or Plasma
1 Music System
1 PC
1 Air conditioner
1 Water Dispenser
Note: The estimate is only a guide. Items can be swapped.Manufacturer's warranty- 12 months