1400VA/24V "Smiley" Home UPS/PURE SINEWAVE INVERTER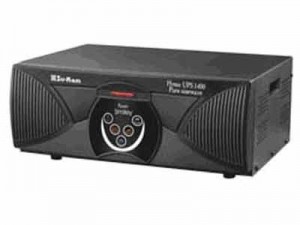 | | | |
| --- | --- | --- |
|   |  Unit Price |  Total Price |
|  Sukam 1400VA/24V  Home UPS/Inverter (1) |  N 54,000 |  N 54,000 |
|  Sukam 200Ah/12V  SMF Battery (2) |  N 60,750 |  N 121,500 |
|  Sukam Double Battery Trolley (1)                               |  N  10,800 |  N  10,800 |
|  Installation |  N 22,000 |  N 22,000 |
|  Total Price |   |  N 208,300 |
          The Su-Kam 1.4KVA/24V inverter is a 1400va output pure sine wave inverter, providing power backup that will sustain a range of domestic or office equipment. The 1.4kva Su-Kam inverter offers just enough capacity to meet an average household's basic needs in terms of light points, fans, TV, PC, printer, etc (see load estimate, below). The 1.4kva Sukam inverter is a 24V inverter requiring a minimum of two units of 12V batteries to run. The 200Ah/12V battery capacity is generally recommended but other capacities of 12V battery will also work, though backup performance will depend on the capacity.   The Su-Kam 1.4kva Smiley inverter is an advanced design with both inverter and online UPS functions. You get not just automated power-switching function but also uninterrupted power delivery. In effect, your computer will not reboot and your TV, DVD or other appliances will not sense a power break when power fails and your inverter mode comes on. So, they will continue to run uninterrupted. Hence, you don't need to invest in a UPS when you use the Sukam Smiley 1.4kva inverter.   Also, the Su-Kam 1.4kva inverter is a pure sine wave inverter, offering the purest quality of power, best for sensitive equipment. What's more, it's proven to deliver stable performance, provide extended power backup and give durable service. When looking for a small inverter for big performance, the Sukam 1.4kva is a dependable choice, already serving many homes and offices in Nigeria.    Check again, some of what you gain, using the Sukam 1.4kva inverter:
Offers budget capacity that meets most family power backup needs at relatively affordable cost
Solid performance with years of service enabling user recoup investment and enjoy power supply dividend
Cost saving with dual function of inverter and UPS, dispensing the need to invest in UPS
Compact, space-saving design that tidily fits into home environment
Longer backup for computer as compared to using regular UPS
Appliance-friendly, enhancing lifespan of the appliances like TVs – ensures no damaging Time Gap (start-up delay) between power cut and resumption of back-up power.
In general, Su-kam inverters offer these additional benefits:
Extended

Power

Backup: Get several hours of backup to meet your power need over most of the day. For the right load, your Sukam inverter offers over 10 hours of supply.
Zero

Running

costs: They require no consumables like diesel, petrol or oil, saving you lots of money spent on power generators. Also no frequent breakdowns as you're likely to get with your overworked power generator.
Noise-Free: Your Su-kam inverter is noiseless. Now you can spare yourself all that generator noise you've been enduring as a necessary evil
No

Oil

Mess: Sukam inverter uses no oil, causes no oil spill or dirt and is a clean appliance like other gadgets in your room.
No Fumes: The inverter also produces no fumes or smoke, saving your environment all the air pollution your power generator punishes you with.
Auto-run: All the stress of starting, stopping, changing over, topping oil, pouring diesel, cleaning oil mess and all the other tedious chores of managing a generator are eliminated for you. Sukam inverters run in automated mode, requiring no manual intervention.
Conserve,

Optimise

: The inverter is an economy device, helping you optimise. Switch on only your TV and that's the power you use, all else stays stored. For a generator, it must run at full capacity, burning fuel at full requirement, even if its just a bulb you want to light.
Key features of Sukam 1.4kva Inverter: 
High end DSP based design.
Light weight and compact in design resulting in space saving.
Overload and short circuit protection.
Battery deep discharge protection.
Charger capable of charging deep discharged batteries.
Charger is supported with spike busters and line filters eliminating every possible harmonic distortions.
CCCV based charger to reduce water topping frequency.
Better overload handling capacity as compared to ordinary inverter.
Noiseless in operation.
User friendly display and operation.
High surges capability.
Runs heavy loads.
Battery pole reversal protection.
Estimated

Load

Capacity
1 Computer
1 21 to 29 Inch T.V
3 Fans
4 Lighting Points
1 VCD
1 DSTV Decoder
1 Sound System
Technical Specs:
Output Power – 1400VA. Output wave form – Pure Sine wave. Peak efficiency > 88%. Output voltage – 220V. Nominal battery voltage – 24V. Overload capacity handling – 105% for 6 minutes. Compartible battery type – Lead Acid/SMF. Weight – 5.7kg. Dimensions LxWxH (mm) – 470x295x170. Casing – sheet steel with plastic front. Manufacturer's warranty 12 months.