3.5KVA/48V "Fusion" Home UPS/PURE SINEWAVE INVERTER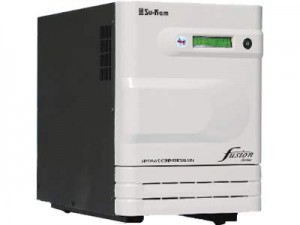 | | | |
| --- | --- | --- |
|   |  Unit Price |  Total Price |
|  Sukam 3.5KVA/48V  Home UPS/Inverter (1) |  N 140,000.00 |  N 140,000.00 |
|  Sukam 200Ah/12V  SMF Battery (4) |  N 60,750.00 |  N 243,000.00 |
|  4-Battery Iron Rack (1)                                 |  N 12,000.00 |  N 12,000.00 |
|  Installation |  N 33,000 |  N 33,000 |
|  Total Price |   |  N 428,000.00 |
           The Sukam 3.5kva/48v Fusion Series Inverter & Commercial UPS offers a sizable capacity for power backup. This Su-Kam inverter capacity can support most appliances in the home or office, excluding only the heavy power users like air conditioners and deep freezers. While the manufacturer, Su-Kam, actually lists the 3.5kva/48V Fusion Series as capable of supporting a small air conditioning unit, we would rather you leave out your air conditioner or freezer from your load for this capacity. That will help achieve better power backup performance for your setup.The 3.5kva/48V Su-Kam inverter provides a UPS mode to ensure that even the most sensitive equipment runs uninterrupted during system switchover to battery supply. As a result, your computer, plasma TV or other appliances continue to run without a break or reboot, even when no external UPS has been installed. When power fails, the switchover is not only automatic but also instant and seamless. This protects your precious equipment. With the Su-Kam 3.5kva/48V, you need no extra investment in a separate UPS as this unit is designed to serve both purposes.What's more, the Su-Kam 3.5kva/48V Fusion Series inverter is a Pure Sine Wave inverter, delivering the best quality of power that will keep your equipment protected. Use this inverter for sensitive equipment to enhance their durability. The Su-Kam 3.5kva/48V inverter is powered by a battery bank of four 12V batteries. Battery capacity of up to 200Ah is recommended to provide adequate backup capacity, but lower capacities will also function, only providing less backup performance
. 
It is also advisable to acquire a 
four-battery rack
 (purchased separately), to neatly stack your 4 batteries. Also, consider to buy the 
Su-Kam battery equaliser
, which can help with the performance and durability of your batteries.The 3.5kva Su-kam unit is a relatively robust capacity, offering comfortable power backup of up to 12 hours on a typical household's set of appliances, excluding the high consumption equipment previously referred to. At its level, it can take most appliances, deliver impressive backup and still keep implementation cost at a reasonable level. That makes this capacity one of the most popular of the Sukam range. Typical appliances include lighting, fans, DVDs/LCDs, TVs, refrigerator, PCs, satellite decoders and similar household appliances.The 3.5kva Su-Kam fusion series inverter (commercial UPS) is engineered to deliver superior, dependable performance and will provide excellent return on investment. Su-Kam inverters offer advanced inverter technology that guarantees superior performance! They offer a level of protection against deep battery discharge, a critical factor for battery durability. They also offer in-built battery over-charge protection, another mechanism to protect your inverter batteries. The constant voltage and frequency system of Su-kam inverters ensure stable and efficient inverter performance and peace of mind for the user. Key product features of the Su-kam Fusion Series 3.5kva pure sine wave inverter/commercial UPS:
DSP based PWM technology using MOSFET for high-speed processing
Fuzzy Logic Charging algorithm suitable for all type of batteries, for best battery performance.
Pure sine wave power output – 100% clean, regulated and totally stable, distortion-free power, ideal for sophisticated equipment.
Instant switchover – your PC, for instance, will not reboot at power switch from mains to inverter
Constant voltage and frequency.
User friendly display and operation.
Battery & Load Level indications on LCD panel for ease of monitoring
Inbuilt Multimeter for displaying Input Voltage, Frequency & Battery Voltage.
Auto self test on LCD Panel.
LCD panel for remedial actions & water topping alerts.
Smart short circuit protection.
Reverse battery polarity protection.
Free of spikes and surges.
Runs heavy loads.
In built TDR point for compressor based applications.
Power fail duration on LCD panel.
World's most advanced Commercial UPS based on the world's most advanced DSP Sine Wave Technology
Su-kam inverters offer these benefits
:
Extended

Power

Backup: Get several hours of backup to meet your power need over most of the day. For the right load, your Su-kam inverter offers over 10 hours of supply.
Zero

Running

costs: They require no consumables like diesel, petrol or oil, saving you lots of money on spent on power generators. Also no frequent breakdowns as you're likely to get with your overworked power generator.
Noise-Free: Your Su-kam inverter is noiseless. Now you can spare yourself all that generator noise you've enduring as a necessary evil
No

Oil

Mess: Su-kam inverter uses no oil, causes no oil spill or dirt and is a clean appliance like other gadgets in your room.
No Fumes: The inverter also produces no fumes or smoke, saving your environment all the air pollution your power generator punishes you with.
Auto-run: All the stress of starting, stopping, changing over, topping oil, pouring diesel, cleaning oil mess and all the other tedious chores of managing a generator are eliminated for you. Sukam inverters run in automated mode, requiring no manual intervention.
Conserve,

Optimise

: The inverter is an economy device, helping you optimise. Switch on only your TV and that's the power you use, all else stays stored. For a generator, it must run at full capacity, burning fuel at full requirement, even if its just a bulb you want to light.
Estimated load capacity of 3.5kva Fusion Series Su-kam Inverter:
1 Fridge
5 Fans
6 Lighting Points
1 DSTV Decoder
1 LCD T.V or Plasma
1 Music System
1 PCManufacturer's warranty: 12 months